Zenix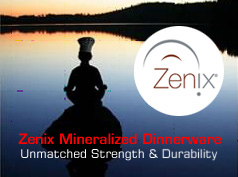 Arcoroc Introduces Zenix®, a superior material that blends dinnerware durability and design to its highest level. This pure mineralized dinnerware material harmonizes the aesthetic food presentation desires of culinary professionals with their rigorous table-service demands. Zenix® dinnerware carries Arcoroc's five-year chip warranty and a first-time-ever 10 year shape warranty!
Kwarx


Kwarx® is a revolutionary new glass material created specifically to allow sheer rim designs to obtain extreme strength and durability against chipping, breakage, scratching, and is guaranteed for up to 2,000 industrial dishwashing cycles. Kwarx® glassware is completely transparent which makes it the perfect choice for tasting quality glassware.
Fully Tempered Glassware


Arcoroc developed the Fully Tempered Glassware process in 1958. We still hold the leadership position by providing products that are up to 5 times more resistant to breakage – which makes them 5 times more practical in today's environmentally friendly restaurants. Fully Tempered Glassware offers fewer breakages with increased strength and safety for handlers – without the loss of style and elegance.